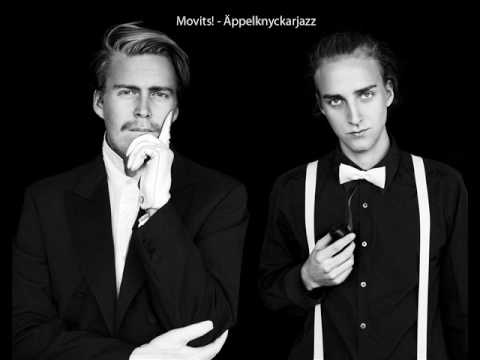 MOVITS!
are reliably and quite curiously upbeat every moment that they are performing. The song titles become indecipherable Swedish words over the roar of the audience, but regardless of the song's background and intent – one is a love ballad, another a blues song, a third about owing someone money – what follows is a constant stream of high tempo, inflected rap from
Johan Jivin' Rensfeldt
while his two band mates bounce to the beat.
Their attire is dapper with a hint of a surprise in their sneakers. All three sport tuxedos and bowties, which they fix for each other before bounding onto the stage. Saxophonist
Jocke "One-Take" Nilsson
and producer / DJ
Mördar-Anders Rensfeldt
start the familiar and fiery
'Appelknyckarjazz'
and
Johan
leaps into action moments later, wearing his "brand new song hat" and gesturing emphatically with his free hand.
They continue with tributes to
James Brown
(
'Have You Got Soul'
) and
Sammy Davis Jr
, and perform
Tom Jones
as an homage to, well,
Tom Jones
. Halfway through the concert,
Johan
free styles the notable Swedish audience acappella, upping the celebrity status of the band's hometown, Luleå.
Jocke
enjoys several solos of his own, letting his sax lead him in a catchy swing while he plays.
With windmill moves, spins, arm-linked skips and persistent bouncing,
MOVITS!
capitalize on their stage real estate. They continue with
'Swing For Hyresgastforeningen', 'Ta Pa Dig Dansskorna'
and
'Fel Del Av Garden'
while their spiffy tuxedos and impeccable coiffures morph into varying states of disarray.
Johan
announces the "official dance frame of the evening" and the three cluster together, flapping their arms like wings and staring beyond the audience, intriguing and amusing everyone before performing
'Appelknyckarjazz'
as their last and fittingly "danceable" song.
The concert ends with a moment of rare stillness and
MOVITS!
share an unmic'ed caucus in the corner planning their encore – two new songs, one so new the band invited name suggestions from the audience. Their electric drum set maintains a thumping pulse, keeping them sweating and the audience cheering. You can't help but wonder if hip hop, as their t-shirts claim, was in fact was born in Sweden.