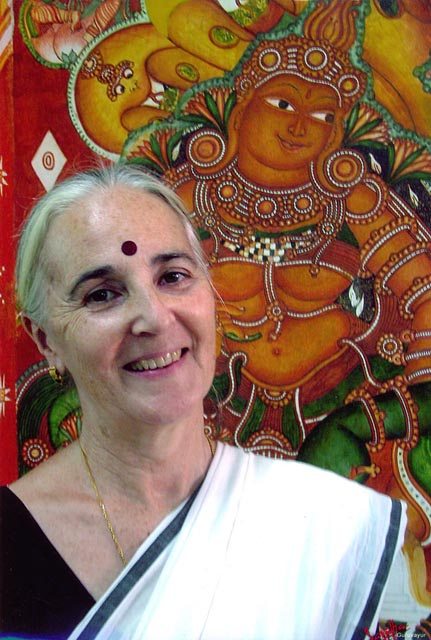 Book Talk: Pepita Seth presents her research on the Temple, showcasing her book, "Heaven on Earth"


- Seth spent 20 years living near Guruvayur and wrote the book over 7 years—"being a devotee of Guruvayurappa was part of the contract"

-

Historically, there was a Bhagavathi goddess worshipped in the spot where the Guruvayur temple now stands.

To honour her presence, she continues to be worshipped at the temple and there is one puja focused on her (per the goddesses' request)

- Guruvayur temple is like a city state with its own management, routines, population—every day, the temple accounts are inscribed on a palm leaf and read to the Lord

- Guruvayurrappan statue stone is said to contain medicinal properties

- It is the devotees who humanize Guruvayurappan with their personalities, traits, emotions, understanding, and make Him accessible

- Ma
ny marriages take place there, and since arranged marriages are between people who have sometimes never met, there have been instances where people get married to the 'wrong' people—but they are sanctified by Guruvayurappan, so no matter!

- Devotees make all kinds of exorbitant offerings.

One family had their 1-month old baby weighed in Rs.100 notes!

- The Keshanti (Head Priest) makes $45,000/year

- It's in the details that the scale of the temple's management is realized:
14 families exclusively manage the institution of the Guruvayur temple—finances, making garlands, cleaning, lighting lamps, making the wicks for the lamps, etc.

Wick-makers, for example—roll the wicks on their thighs for years and years, leaving their skin forever calloused
- Guruvayur Kesavan elephant served the temple for 53 years, also known as "Raja Raja," the king of elephants—treated as an incarnation of the Lord
-
Krishnanattam dances (different from Kathakali) tell the story of Krishna—performed over 8 days; those who watch the last performance, i.e. Krishna's death, are supposed to stay and watch the 1st performance so they see Krishna's birth, a more auspicious 'ending' to a performance

- Paatakani—storytellers at the temple who tell their stories simply and devotionally, no attempt to be witty, sarcastic, etc.

- Aanayottam—the annual elephant race, draws a lot of crowd and hoopla!

- The universe of the temple for the 9 days of Navrathri makes the outside world seem that much more chaotic and disturbing—imagine being the Keshanti of the temple and not leaving the temple ground for 6 months; that transition is very tough!

"You see him get visibly thinner over his tenure!" says Seth.
See Hindu articles on Pepita Seth: http://beta.thehindu.com/arts/books/article52515.ece and http://www.thehindu.com/mag/2007/12/09/stories/2007120950120500.htm
The talk took place at Aicon Gallery and was organized by the Indo American Arts Council.