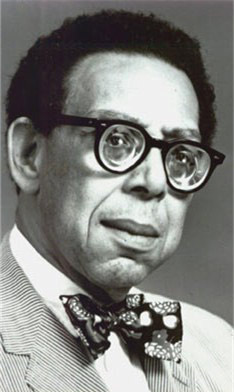 Thanks to Mikey Brofman and the Brook
lyn Art Song Society, I was introduced to
some of Robert Hayden's beautiful poetry
:


Those Winter Sundays

Sundays too my father got up early
And put his clothes on in the blueback cold,
then with cracked hands that ached
from labor in the weekday weather made
banked fires blaze. No one ever thanked him.

I'd wake and hear the cold splintering, breaking.
When the rooms were warm, he'd call,
and slowly I would rise and dress,
fearing the chronic angers of that house,

Speaking indifferently to him,
who had driven out the cold
and polished my good shoes as well.
What did I know, what did I know


of love's austere and lonely offices?
Frederick Douglass
When it is finally ours, this freedom, this liberty, this beautiful
and terrible thing, needful to man as air,
usable as earth; when it belongs at last to all,
when it is truly instinct, brain matter, diastole, systole,
reflex action; when it is finally won; when it is more
than the gaudy mumbo jumbo of politicians:
this man, this Douglass, this former slave, this Negro
beaten to his knees, exiled, visioning a world
where none is lonely, none hunted, alien,
this man, superb in love and logic, this man
shall be remembered. Oh, not with statues' rhetoric,
not with legends and poems and wreaths of bronze alone,
but with the lives grown out of his life, the lives
fleshing his dream of the beautiful, needful thing.